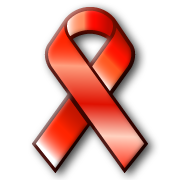 Take part in our ongoing research
exercise on HIV prevention among
young people.
AIDS Ribbon PHOTO - CharRob/
Photobucket
This is to further explain the conceptualization behind the research exercise we are running. For a link to the online information form,
CLICK HERE
. The deadline to participate is 8th December 2011.
-----------------------
We will begin this piece by taking a step forward and looking at the latest global commitments on HIV/AIDS and work our way back to the issue at hand behind the exercise we are running.
So what are these targets with respect to young people? In a nutshell, the United Nations and essentially your governments have committed to the following with specific mentioning of young people;
Leadership: Support young people to play a leadership role in the continuing fight against HIV/AIDS helping to develop measures that will ensure young people are engaged in fighting the pandemic. We are already seeing an example of this right now with the CrowdOutAIDS project that the UN Joint Program on HIV/AIDS (UNAIDS) is currently running (led and informed by young people),
Prevention: Harnessing the energy of young people to help lead Global HIV awareness by redoubling prevention efforts and ensuring access to new modes of connection and communication,
Supporting evidence based prevention approaches that target young people among other groups by ensuring financing is targeted and cost effective,
Human Rights: promoting laws and policies that ensure the full realization of all human rights and fundamental freedoms for young people, particularly those living with HIV and those at higher risk of HIV infection, so as to eliminate the stigma and discrimination they face.
The declaration also notes, alarmingly, that young people (as defined by the UN - 15 to 24 years) currently account for 1/3 of all new infections. The figures are that 3000 young people are infected out of 7000 that occur each day. To give further perspective to these numbers, it is estimated that there are currently 33 million people living with HIV and so far, 30 million have died.
The challenges the declaration attributes these high numbers of youth infection include;
Limited access to good quality education,
Decent employment and recreational facilities,
Limited access to sexual and reproductive health programmes that provide the information, skills, services and commodities for protection
Knowledge of HIV is only among 34% of young people,
Laws and policies in some instances exclude young people from accessing sexual health-care and HIV-related services, such as voluntary and confidential HIV-testing, counselling and age-appropriate sex and HIV prevention education.
What is the Research Hoping to do then?
The commitments made above and challenges highlighted are basically what the world hopes to have enabled and addressed respectively by 2015. The question is, how do we get there exactly. The declaration notes that "...each country's epidemic is distinctive in terms of drivers, vulnerabilities, aggravating factors and the populations that are affected, and therefore the responses from both the international community and the countries themselves must be uniquely tailored to each particular situation." So essentially, the national response must be informed by broad examination and understanding of the national challenges.
This is also the case when we are looking at the youth response to HIV/AIDS; whether it be national or regional. With Sub-Saharan Africa remaining the region most devastated by the pandemic, it is safe to deduce that within Africa, many of the challenges we face are common, and the risks that young people are facing are also similar and therefore approaches can be even more effective if we can borrow lessons from one another.
One of these lessons is the fact that Africa is fast becoming modern in many parts and access to communications and connection to the rest of the world is currently higher than many parts of the world. In essence, young peoples lives in Africa today are not the same by way of the aspirations they now have, the connections they are making, the information they are accessing and interests they are developing each day. And as a result, we feel a new understanding must be carved on what this means to the HIV/AIDS response targeting young people; if not for these reasons, then for the fact that young people are not static - they are a dynamic demographic group and we can not say that the young people (15 to 24 by UN definition) in 2001 when the first UN Declaration of Commitment on HIV/AIDS was passed are the same as those in 2011.
The research exercise will be looking to then collect new experiences, challenges and practices on HIV prevention among young people on the African continent that can paint such an understanding of the situation today. We want to understand what, as a result of the times now, are the NEW EXPERIENCES on the ground. We want to establish if from those experiences there are NEW CHALLENGES. And ultimately, we want to understand whether the approaches that have been used so far are effective with respect to the experiences and challenges, and if there are NEW PRACTICES or APPROACHES that are doing things better or differently.
We hope the results of the exercise can go a long way to inform and pressure policy debate, inform review and programme development in prevention targeting young people and contribute to improving overall actions of organizations and youth networks.
How is the exercise being conducted?
It is being conducted in 3 steps;
(a)
ONLINE
- we currently have an online information gathering form. You can access it
HERE
. We are also circulating an email to encourage participation in the exercise,
(b) SESSION AT ICASA - we will be conducting a session at ICASA 2011 where we will engage the young people taking part in the Pre-Conference and
(c) FOCUS GROUP DISCUSSIONS - we will also conduct these discussions, together with interviewing youth organization representatives to gather more information also during ICASA 2011.
We encourage you to share this information with people in your networks and organizations in Africa that may be interested in the contributing information for the research exercise. NOTE, ONLINE INFORMATION COLLECTION ENDS ON 8th DECEMBER 2011.
---------------------
Editorial Team.